What is your automotive goal, are you using an advisor?
According to dictionary.com, the definition of advisor is: One that advises, such as a person or firm that offers official or professional advice to clients. Working with an advisor to define your goal or expectation is essential for quality service. When we need financial advice we turn to a financial advisor, when we need health advice we seek out a health professional advisor, and it is no different in the automotive business especially with the costs related to today's high-tech vehicles. The professional service advisors here at EAS understand that automotive goals can be very diverse: are you leasing the vehicle, putting on 30k miles a year, want to just keep it safe, interested in retaining the original factory performance throughout your ownership, or planning on handing it down to your kids? Situations and interests vary and so should the advice, which is why we call it personalized service. Each time the vehicle is in for service it receives a complimentary 50-point check to keep you informed and to help the advisor give you the professional advice that best suits your needs.
---
Pre-Purchase Inspection
Ok, you've researched and located the Mercedes-Benz that interests you. It is a "Pre-Owned", "Certified Pre-Owned", "Pre-Loved", "New to You", "Private Sale", "Little old lady car" or any other label created to shed the negative connotation of a "used" vehicle. If it is a local sale then, of course, you have followed the basic guidelines:
You've seen the vehicle in natural sunlight (the most revealing of all light)
You've cold started the vehicle and road tested it to check the acceleration, shifting, and braking
You've remained as objective as possible (keeping your emotions at bay)
You've invested in a Carfax.
It is now time for a Pre-Purchase Inspection. One only has to read the local headlines or listen to stories of friends and family to hear of a disappointing used vehicle experience. Much like enlisting the services of a home inspector for housing purchases, it is recommended by many automotive industry pundits to enlist the services of an independent automotive technician familiar with the make and model to assess the mechanical and safety condition of the vehicle.
Although a Pre-Purchase Inspection can never be 100% accurate as there will always be risks associated with a used vehicle purchase, a quality Pre-Purchase Inspection can significantly hedge some of the risk for potential safety and financial issues for the purchaser. E.A.S. is proud to offer this service to our customers.
---
Late Model Service Intervals
The most frequent questions we get asked is in regards to recommended synthetic oil service intervals. "Should I be changing my oil more often?" "Is it ok to stick to the factory recommended 10,000 to 13,000 intervals?
The simple answer to both is yes. The question we have for you is this: "What is your plan for ownership of the vehicle?" If you are leasing or planning on owning the vehicle only up to 50,000 to 60,000 miles then stick to the factory recommendations and no one can fault you for that on resale or trade in. If you plan on ownership of 80,000 to 100,000 or more (much more in many cases), we believe it is in your best interest to increase the frequency of your oil service intervals to 5,000 to 6,000 or every 6 months as we believe viscosity deteriorates significantly after 6000 miles. We have more then 3 dozen customers with vehicles ranging from 1999 to 2005 with mileage between 80,000 and 110,000 that are consistently using up to 2 qts. of oil every 2500 miles that could have been prevented by more frequent oil service intervals earlier in the vehicles life.
---

Boston's Best Businesses Awards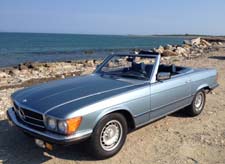 EAS is proud to be a partner in Boston Magazine's "Boston's Best Businesses" program. We will be providing the 1st Prize, the collectible 1979 Mercedes-Benz 450SL Roadster pictured here. We are excited to be handing the keys over to the 1st Prize Winner this October.
Click here for more information on nominating a business or about the events.

---
Standing Behind Our Work – 3 Year Warranty
Here at E.A.S. we believe in the work we do and the parts we recommend. We are proud to announce this year the introduction of our expanded warranty policy, one of the strongest in the industry. Starting January 1st 2012, all non–maintenance repairs will carry a three year warranty on all parts and labor. For further piece of mind, add 10% to the cost of the repair and extend the warranty for the entire time you own the vehicle.
We know that you have a lot of choices out there for automotive repair and we appreciate the fact that you choose us!
---
Will servicing my vehicle with you void my warranty?
This is a question I often get asked and the basic answer to that is no it will not. First let's be clear, we are an independent repair facility that specializes in Mercedes-Benz and are no way affiliated with Mercedes-Benz or Daimler AG. As such we cannot perform any warranty work but we can perform any maintenance work that you need to pay out of pocket for such as A through G services, brakes, wipers, and tires. Maintenance on newer models is one of fastest growing segments of our business. As long as you have an electronically created invoice for the work, the work was done according to the maintenance schedule, and was done with factory parts then your warranty stays intact. The work done here at E.A.S. satisfies all those requirements. We are very experienced, up to date with training, believe in the use of factory parts, and will save you money.
Any specific questions please feel free to call me at 781-642-0667 or e-mail me at ed@virtualeas.com
Ed Owen
Service Director/Partner